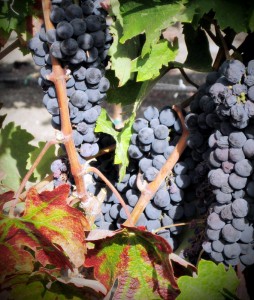 Anita's Blend 2015

A fruit forward, balanced, sophisticated blend.

44% Syrah, 29% Zinfandel, 27% Cabernet Sauvignon

72 Cases Produced

Jazzin' 2015

Tastes of dark fruits with a smooth finish.

95% Zinfandel, 5% Syrah

96 Cases Produced

GSM

A well balanced full blend of Grenache, Syrah, Mourvèdre.

43% Mourvèdre, 30% Grenache, 24% Syrah, 3% Zinfandel

120 Cases Produced

Serendipity 2013

Dark and deep raspberry and oak.

27% Grenache / 26% Mourvèdre / 24% Syrah / 23% Zinfandel

84 cases produced
TASTING NOTES
When you drink our wines please remember three things:
We make them in a French style.
A typical Paso Robles blend incorporating Syrah is usually fruit forward, that is, a big cherry or strawberry nose and tastes that are immediate and powerful. Like a great martini – wonderful by itself but not too subtle. Our wines are more complex, more balanced, more sophisticated. Our nose offers hints of spice, dark berries and anise. The first sip will be "mouth-filling" tastes of leather, oak and sandalwood. Our complexity shines in our finish — a lingering presence of cassis, black cherry and pepper on the back of your tongue.
We make them to be paired with food.
Our blends complement food. Light meats such as pork, chicken, rabbit, veal and game birds are wonderfully paired with our wines. Try them with steelhead salmon or seared ahi. Sharp cheeses such as Reggiano Parmigiano, white Vermont Cheddar, or English Stilton are also excellent accompaniments.
We make them to be even better 5-8 years from harvest.
Drink them now but "lay down" some for later. If you want some now please vigorously decant before serving, or, if you don't care to decant, remove the cork and leave uncorked for at least one hour. Our wine needs to be oxygenated ("breath") because we make it with pronounced tannins. The tannins will allow it to age properly and develop even more complexities. If you "lay down" our wine, remember to keep it in a consistently cool (55° – 57° F), humid and dark environment. And, as the term suggests, lay it on its side.