The bright idea to make wine is usually preceded by the consumption of it. Usually among friends who are enthusiastic ("What a great idea!"). They, too, have been sharing the wine.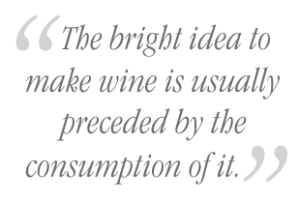 Usually among friends who are encouraging ("That's what I've always wanted to do."). But they would rather you try it first. Usually among friends who are willing to help ("I'd love to stomp on those grapes like Lucy did!"). We all like that idea. Usually with the expectation of duplicating, or better still, surpassing the pleasures of an extraordinarily well-made blended wine. So well-made, in fact, that a second bottle is in order. Usually with the thought that it's an adventure both husband and wife can participate in and enjoy. (So far.) And usually with a passion to create something that is lasting, and good, and brings joy to the makers and the slakers.
Anita and I both recall the afternoon we began our adventure. We were staying with George and Sandy Cozzetto at the Hartley's beautiful acreage in Geysersville, California. (Dan and Linda have since traded for an even more beautiful spot in Maui, though somewhat smaller than Geyserville's 100 acres). We were taking a walk after lunch (yes, we had had wine) and I remember George and I fantasizing about how someday our families could make wine together.
That was over 20 years ago. A summer's afternoon walk and talk. We would have many more and often spoke of making wine. And each time we would know a little bit more of the work it would take to coax the grapes into something close to what we thought was a wonderful wine. Something we would be proud of.
We would be in our information-gathering stage for the next two decades. So we sampled.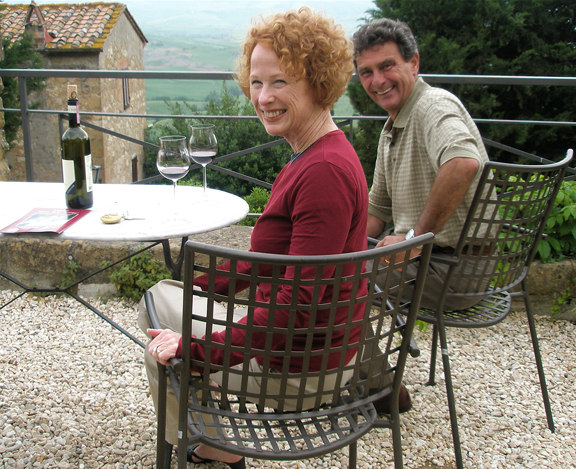 We tasted Zins at ZD. Cabernets from Stag's Leap. Chardonnays from Grgich Hills. Pinots from Oregon. We picnicked at Schramsberg. Lunched at Mustards. Sipped from paper cups while sampling cheeses at Dean & DeLuca. Tasted Sangiovese with Moon at Luna. Joined countless wine clubs. We identified spice, floral, chocolate, licorice, lavender, and all sorts of berries.
"Too much tannin," "needs time," "wonderful finish," "great nose," "too thin," "really big," "WOW!" We tasted and we talked and we learned (still do of course) for ten years but reality, as it so often does, tempered our fantasy. The Cozzettos settled in Seattle, we in Lafayette. It was all too infrequent that we sampled, and when we did, we spoke less of being able to make wine together. But we still shared a bottle, or two, usually with something wonderful we had all cooked.
George, ever more resourceful and realistic than I, soon found a way to participate in helping to make some very, very good wine. George met the family Facelli, headed by Lou; a man who had made wine for someone else and was ready to make wine for himself. George and Sandy offered their help.
George and Sandy had figured out a way to make wine in much the same way grandparents raise their grandchildren…joy without too much responsibility, reward without too much financial investment, and the ability to walk away after returning the now spoiled "darlings" to their tired, broke and besieged parents. They had it made!
Not yet Anita and I. That would take ten more years and  more sampling. Much, much more sampling.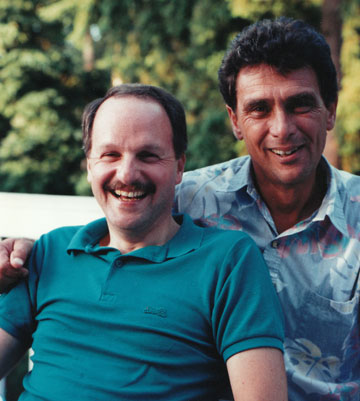 On a dark summer's day in June, 1995, George, while we were, once again, walking the Hartley's Geyersville property, told us that he had been
 diagnosed with multiple sclerosis. In fact, he and his wife Sandy had known for ten years what was in store for them. And as doctor
 and nurse, they understood it in far more painful detail than we.
 A huge sadness bent Anita and me that day…still does.
But it was impossible to be around George and Sandy and feel
 sorry for yourself or for them.  They wouldn't let you. George, as always, saw the glass as half full, the water crystal clear,
 contained in a sparkling goblet. His positive attitude, his boundless enthusiasm, his tenacity, his wit and intelligence and his bravery would all contribute to his zest for the shortened life he knew he was facing. And my new awareness gave immediacy to our dream of making wine together.
Soon, Anita and I went looking for property where we could make wine. Over time we looked at land in Sonoma, Napa, Geyserville, 
Guerneville, Winters, Lodi, Monterey, the Sierra foothills. Two 
years later we still hadn't found the perfect spot. So we decided
 to go to France with George and Sandy. Couldn't hurt!
 But by now George had to wear very sturdy, heavy and clunky braces on both his legs which made strolling Paris ponderous. So we rented a wheelchair and set the braces aside. Then we wheeled and sampled, visited all the museums and wheeled and ate and sampled some more. And we talked about making wine together – sooner rather than later.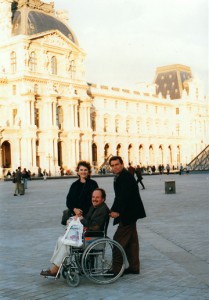 We continued to look for property for another year without success, but, as so often has happened, friends who knew of our dream lent a hand. Hal and Carrie offered us a magnificent 10-acre parcel just southwest of the Sonoma town square — at a very, very attractive price, and Hal doesn't drink wine!
But (there are so many "buts" to finding the perfect property) boron, a mineral that must be present in your irrigation water, was not only present but also front and center. Five parts per million is necessary but 55 parts would eventually kill anything planted, grapes included.
So our search continued, south this time, towards the Santa Rita Hills of Santa Maria (think "Sideways" and Pinot Noir). At lunchtime I stopped 50 miles north of there in Paso Robles and decided to do some local sampling. I walked through a beautiful downtown park and into a restaurant called "Villa Creek" and met the owner, Cris Cherry. Over lunch we sampled his extraordinary blended wines and he recommended a realtor and wine maker.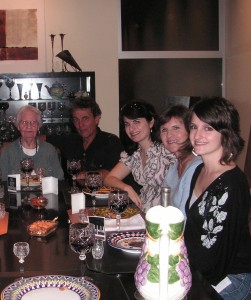 Another year passed and, finally, in 2004 we bought our land seven miles outside of Paso Robles. In 2005 we produced our first wine with a brilliant young wine maker named Hilary Graves. We named it ENFOLD / George's Blend.
George left us in October of 2004, so he never did taste George's Blend. But I know he helped me make it. Whenever any "buts" entered the production process he helped us get beyond them. His courage and love for life always spurred me on to do my best and make a wine of which he would be proud.
Almost a dozen years after George's revelation on that dark summer's day, Sandy, Kim and Jessica (their daughters), Marie (his Mom), Anita and I opened the first bottle of wine George and I had "made together."
And we sampled.
And, as always, we toasted before drinking, "Salute la Famiglia."
And George's Blend, as we had hoped, was as bright and beautiful as was that summer's day.