All of our wines are made from our estate fruit grown at our sustainably farmed Speciale and D'Alessio vineyards in Paso Robles, California.  We produce all our electrical energy from solar arrays; all our water comes from a deep aquifer; we plant native grasses between our rows for fertilizer; we shred and mulch all our prunings back into our soil.  We use a very low level fungicide to control mildew.
We hand-tend and hand-harvest our Zinfandel, Cabernet Sauvignon, Syrah, Grenache and Mourvedre.  We produce only in small amounts, less than three tons an acre — between 300-400 cases each year. Each varietal is well suited to our terroir: 750' elevation, hot days and cool nights with temperatures ranging from 100° – 55° F, early morning moisture, late afternoon breezes, loam and limestone soils on a gentle southwesterly slope.
| | | |
| --- | --- | --- |
| | | We hand pick our grapes, put them in small trays which hold about 25 pounds. Then the trays are "wheeled" in little yellow wagons to my pickup truck where they transferred into a small "picking/fermenting" bin. They are then quickly shuttled to a nearby winery. All in less than one hour! |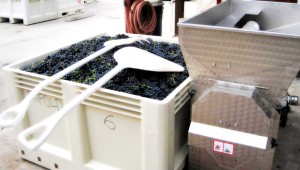 We hand transfer, using plastic pitchforks and shovels, the just picked fruit into a de-stemmer, which separates the berries from the cluster, and flows the grape juice, called "must," into plastic fermenting bins, The Crush. This immediate and gentle handling will help us keep many of the berries whole.  Some of the fermentation will be under the skin of those whole berries and will produce a more intense and concentrated flavor. The "punch-down," a hand's on process, three times a day, will allow the must to actively give off carbon dioxide and help the yeast convert the sugars into alcohol.
| | | | |
| --- | --- | --- | --- |
| | | | After fermentation is completed the wine is "pressed off" the skins and seeds (using a bladder press) and transferred to new oak barrels. A day or two after transfer, we will begin the process of malolactic fermentation, the conversion of malic acid to lactic acid to lower the acidity. Each varietal will be barreled separately. The maturing wine will sit on new French and new American oak, medium to medium + toast, for 20-22 months, during which time we will hand "rack" three or four times removing the "lees" and "topping off" the barrels.When the wine is ready it will be selectively blended into two, three or four distinct offerings. We hand bottle, without filtering, then allow the wines to "rest" for 2-3 months before they are shipped to our club members. |
THE CLONES
We have planted 2,303 vines on two and one quarter acres. Zinfandel is represented by two clones, Wine Creek and Dupratt. The Cabernet Sauvignon is Foundation Plant Stock #2 (FPS 02). The Syrah clones are Tablas Creek Vineyard Selections  (TCVS-A and TCVS-B). The Grenache clone is TCVS-D. The Mourvedre clone is TCVS-A.
The Zinfandel clone Wine Creek comes with quite a history. It is a favorite of Fred Peterson who planted it above Dry Creek, Sonoma. It is incorporated in the vineyards of Ridge and Atlas Peak. Cuttings were taken from the 100+ year-old vines at Bradford Mountain Vineyards, Sonoma. It offers a traditional, mouth-filling blackberry, earthy taste with well-balanced acid and fruit.
The Zinfandel clone Dupratt is from Mendocino's Dupratt family vineyard. The Dupratts planted this Zinfandel in the Anderson Valley in 1916, at an elevation of 1,200 feet. Today less than six acres remain in production. The fruit produced here commands the highest prices for Zinfandel. This clone produces a fruit forward (anise, blackberry) flavor with low acid.
The Cabernet Sauvignon clone FPS 02 was planted in the late 19th Century in the vineyards of Chateau Margaux and Lafitte Rothschild. In 1940 it was propagated by the Kundes to their estate vineyard in Sonoma. It became known as the Oakville Selection when chosen by Dr. Harold Olmo as the second vine to be designated F.P.S. (Foundation Plant Services) by the department of Viticulture and Enology at the University of California, Davis. This clone provides our blend with structure, body and tannins. The tastes include hints of cassis, cedar and black cherry and carry a long, full finish.
The Syrah clones TCVS-A and TCVS-B are imports from the Rhone Valley via Tablas Creek Vineyard in Paso Robles. The Perrin family, partners in Tablas Creek and owners of France's famous Chateau de Beaucastel, have successfully immigrated many Rhone Valley vines to Paso Robles. This clone produces a wine with flavors of currants and black pepper. It contributes a deep purple-red color to the blend and helps soften its finish.
The Grenache clone TCVS-D is the most prolific grape of the Rhone valley and is a staple of Chateau de Beaucastel and Jacques Perrin. It is a vigorous grower and has to be pruned heavily. We keep the plant's production to about ten clusters. The nose is of licorice and black pepper. The clone produces fruit-forward tastes of cherry and currant with a deep ruby-red color. It helps balance our blends by offering some acidity to the mix.
The Mourvedre clone TCVS-A came from vineyards in Chateauneuf-du-Pape. It produces a sophisticated fruit that adds structure and tannin to our blends. It does well in the D'Alessio Vineyard with its heat and clay/limestone soils. Mourvedre likes to have its "head" hot and its "feet" wet. In hot, long growing seasons it gives us fruit laden with blackberries and spice.
TASTING NOTES
When you drink our wines please remember three things:
We make them in a French style.
A typical Paso Robles blend incorporating Syrah is usually fruit forward, that is, a big cherry or jamy nose and tastes that are immediate and powerful. Like a great martini – wonderful by itself but not too subtle. Our wines are more complex, more balanced, more sophisticated. Our nose offers hints of spice, dark berries and anise. The first sip will be "mouth-filling" tastes of leather, oak and sandalwood. Our complexity shines in our finish — a lingering presence of cassis,  and pepper on the back of your tongue.
We make them to be paired with food.
Our blends complement food. Light meats such as pork, chicken, rabbit, veal and game birds are wonderfully paired with our wines. Try them with steelhead salmon or seared ahi. Sharp cheeses such as Reggiano Parmigiano, white Vermont Cheddar, or English Stilton are also excellent accompaniments.
We make them to be even better 5-8 years from harvest.
Drink them now but "lay down" some for later. If you want some now please vigorously decant before serving, or, if you don't care to decant, remove the cork and leave uncorked for at least one hour. Our wine needs to be oxygenated ("breath") because we make it with pronounced tannins. The tannins will allow it to age properly and develop even more complexities. If you "lay down" our wine, remember to keep it in a consistently cool (55° – 57° F), humid and dark environment. And, as the term suggests, lay it on its side.