---
---
---
---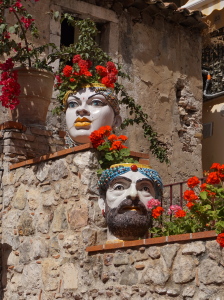 What a wonderful trip we had to Sicily and Italy's Amalfi coast!
Throughout Sicily and Amalfi, everyone could pronounce our names without even trying and Anita was offered many a smile when they realized her last name was Speciale.
Ravello, on the storied Amalfi Coast, is the most beautiful place we have ever been. Perched on a cliff hundreds of feet up from the Mediterranean, our hotel upgraded us to a suite with its own small garden, views of the coast and a bathtub three people could soak in (thank you, American Express!). Breakfast, complimentary, was served each morning on our terrace by Nicola. We ate freshly cooked eggs, fruit that was ripe and flavorful, a basket of croissants and breads and pastries, and coffee con latte calda in large silver pots.
Lunches were even better – freshly caught lobster in a spicy red tomato sauce accompanied with a dry and flavorful Amalfi red wine and "l'aqua minerale frizzante" (sparkling water). Dinners were fantastic — pasta with a main course (rabbit, pork or veal). We gave the restaurants a C- on their vegetables but the salads were fresh and pleasing — rocket, lettuce, basil, laden with made-that-morning mozzarella and red, ripe cherry tomatoes (which Anita ate like candy), all dressed with rich local olive oil and dark vinegar from Modena. In Ravello, we walked in the rain a lot but enjoyed it nevertheless.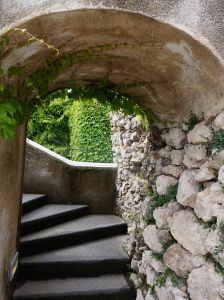 Sicily is not for the faint of heart. Parts of the capital city of Palermo are as crowded, dirty, noisy, and graffiti-ridden as any city of 1,000,000 inhabitants. But Palermo also offers the magnificent Capella Palatina, a jewel of a 12th century chapel covered in fine mosaics of magical colors and gold; the equally ancient, enormous Norman Palace; and the beautiful Teatro Massimo, one of the largest opera houses in Europe, where we enjoyed an intriguing tour, including the fascinating echoing salon. Special pleasures were two memorable dinners with Luisa, an old high school chum of Anita's (she was an exchange student way back when) and her husband Antonio. They are the most gracious of hosts. At one dinner Joseph had the best gnocchi he has ever eaten!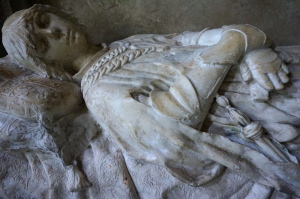 At the 13th century church of San Francesco d'Assisi, where a funeral was in progress, Anita found her great, great, great, great, (repeat 30 times) great-uncle, ensconced in his marble sarcophagus dating from 1463, topped with a beautiful carved likeness of the young knight. A Speciale of some note! Anita has memories from childhood of the elders saying there was a statue of a famous Speciale in Palermo—that turned out not to be just family folklore.
We visited many more places on the island of Sicily including ancient Agrigento, sparkling Siracusa, Disneylandish Noto, the little beach town of Aci Terezza, and spectacularly steep Taormina. Our tireless traveling companions were cousin Sheila and her husband Tom (Sheila is my dress-up Lucy Stomp pal).
Agrigento, in the southern part of the island, features the remarkable ruins of the Valley of the Temples….Greek temples, to be precise. Today seven temples built between 600 and 400 B.C survive, covering an area about 1½ miles long. Fantastic!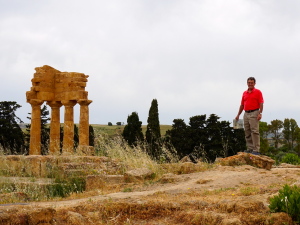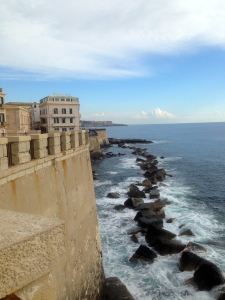 Siracusa is a beautiful port city that also found grandeur during the height of the Greek age. Our hotel room at the water's edge  overlooked the Ionian Sea.  The hotel had an outstanding breakfast, which offered—in addition to the usual tasty things—house-made cannoli, a fresh, crispy pastry shell, into which you piped sweet ricotta filling from a pastry tube. Another sublime Sicilian specialty.
Driving was a harrowing experience that kept Joseph from seeing much of the road-side scenery. Wisely, we cancelled our Amalfi rent-a-car and found drivers to shuttle us to and from Naples and our hotel in Ravello.
The wines of Sicily and the Amalfi coast were delicious. It was a treat to sample more varietals and the product of winemakers that we do not typically see in the USA. Cerasuolo di Vittoria, for example, from the eastern end of Sicily, has the oomph of nero d'Avola blended with frappato, a delicious varietal we had not tasted before.
But international air travel is a trial…long lines, ever-present waits, cramped seats in crowded planes whose seats, lights and tray tables don't work half the time. Joseph flew back from our connection point, Amsterdam, for 10 hours using a flashlight to read because his light switch turned on the light of a passenger three rows in front of him. Advanced airline technology! His "personal in-seat TV" didn't work and his seat could not be put in the "full and upright position!" Ten miserable hours! (The flight attendant gave Joseph a $25 voucher which he gave to the woman behind him who had his seat back almost in her lap the whole flight!)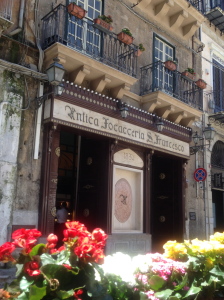 The two weeks of discovery, heavenly food and wine, and spectacular locations made up for the misery of flying, however. We loved  learning more of the history of Sicily and Ravello and hope to return someday. Please contact us if you would like more details about travelling there.
---
---
---
---
---
---