Anita and I bought land in Paso Robles, population 24,709, in 2004, with a plan to build our house, plant our vineyard and make our wines. We worked for many years in finance in the San Francisco Bay Area, and after our 25th wedding anniversary we began searching for a beautiful place to build and create.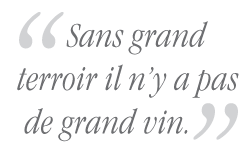 We found a 10-acre spot where all the elements of temperature, slope, soils, water and air circulation (the Terroir) were perfect for growing our five favorite varietals: Zinfandel, Cabernet Sauvignon, Mourvedre, Grenache, and Syrah. As the French say "Sans grand terroir il n'y a pas de grand vin." "Without a great terroir there is no great wine."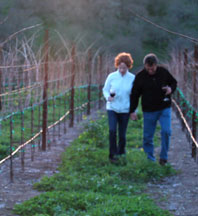 We planted these five not just because the conditions were perfect but, also, we love blended wines. Blending will allow us to produce a subtly different wine each year from the same vineyard. One year we might emphasize the chocolate in the syrah, or the spice of the zin or maybe the black cherry of the Cabernet Sauvignon. We hope we can contribute to what the terroir and vine management have given us.
We make our wines to be paired with food and to be enjoyed by family and friends. If you like our wines as much as we do, you will have added the last part to the realization of a wonderful dream.
"Salute la Famiglia"